Dr. Pari Namazie
Founder VGL, Managing Partner Eunepa
Pari has over 20 years experience as a
Leadership facilitator
Executive coach
Organizational improvement consultant
Pari works with global companies, executive teams and leaders, supporting them at all stages, starting from new leaders in transition through identifying next career moves and exit strategies. Pari also works with executive teams to improve trust and dialogue, enhance vision and execute strategy. She supports them as a trusted advisor in communication, corporate culture, leading across cultures, and building transparency.
Pari holds a PhD in International Human Resources Management (2007) and a BA (Hons) in Business Studies from Middlesex Business School in London. As an author she has published academic articles and book chapters and lectured Intercultural Communication at the Centre for Global Politics Freie Universität Berlin from 2010-2019. Pari served as the President of SIETAR Europa (2015-2018). Pari lives in Vienna, Austria and speaks fluent English, Persian and enough German to keep her out of trouble.
Dr. Barbara Covarrubias Venegas
Project Leader
Barbara is the project leader for Vienna Global Leaders and Eunepa's different leadership programs.
She is a senior researcher and lecturer at a university in Vienna, Austria. She worked and studied in Austria, Spain, Italy, Chile and Mexico and continues working with organizations and executives from global organizations. Barbara was also president of SIETAR Austria, as well as communications director and board member of SIETAR Europa for many years.
Barbara's research and training focus includes New Ways of Working, Flexible Organizations, Organizational Culture and Digital Leadership. These topics also form the focus in her keynotes, workshops and coaching activities. Her PhD research was conducted on Age and Gender Diversity in the Austrian Banking industry. She speaks German, English, Spanish and Italian.
o. Univ.-Prof. Dr. Wolfgang Mayrhofer
Speaker
o. Univ.-Prof. Dr. Wolfgang Mayrhofer is one of the key speakers at Vienna Global Leaders.
He is Full Professor and head of the Interdisciplinary Institute of Management and Organisational Behaviour, WU Vienna, Austria. He previously has held full-time positions at the University of Paderborn, Germany, and at Dresden University of Technology, Germany. He conducts research in comparative international human resource management and leadership, work careers, and systems theory and management.
Mike Murray
Speaker
Mike Murray is a Principal Consultant at PSI Talent Measurement, International. 
He is a business psychologist with over 18 years' consultancy experience and has worked with a wide range of public and private sector clients in the UK and overseas. Because of his 13 years of previous experience as an international marketing manager, Mike understands many of the challenges faced by individual managers working in large organizations.
Mike has industry experience in: FMCG (Nestle, Danone, Kraft), Retail (ASDA, Marks & Spencer, Waitrose), Investment Banking and Finance, (Morgan Stanley, UBS, Credit Suisse, JP Morgan, Visa Europe), Construction (Balfour Beatty, Wates, Scott Wilson plc), Healthcare and pharmaceutical (Novartis, Eisai, Medimmune), Oil & Gas (BP), Public Sector (Metropolitan Police, Crown Prosecution Service, DWP, HMRC, UK Fire & Rescue Service, European Space Agency).
He is a BPS Chartered Occupational Psychologist and holds an MSc in Organizational Psychology from UMIST. Mike is trained to administer a wide range of psychometrics including OPQ, 16PF, HPI, MBTI, Saville Wave and Lominger 'Voices' 360. Strengthscope accreditation. 
Kadidja Naief
Digital Marketing
Kadidja is a digital marketing manager and leadership project coordinator. She has gained experience in journalism, brand strategy, web design, social media and content management, and has supported companies in both online and print media projects from conception to realization. Prior to freelancing, she was a project assistant for a children's aid and development assistance NGO based in Vienna.
During her academic studies, Kadidja was the editor in chief of a literary magazine in Paris and Canterbury, and was active as a tutor for children and migrants for four years. She holds a Master's degree in Creative Writing from the University of Kent, a Bachelor's degree in International Development and a Bachelor's degree in English and American Studies from the University of Vienna with a minor from Boston University. She speaks German, English, Arabic and basic Spanish.
Meghla El Haque
Senior Research Consultant
Meghla is a Senior Consultant at Eunepa and is involved in research and content development for our leadership development and learning platforms. She is also involved in training and facilitation for management and leadership programs.
She was the Director of Global Outreach and Initiatives at the Office of Her Majesty Queen Rania Al Abdullah of Jordan for over eight years. There, she was responsible for designing and implementing international mission programmes for advocacy and development initiatives, as well as the strategic liaison for regional and global partners.
In Vienna, Meghla was the Managing Director of a language and professional training institute for six years. She has a proven track record in leading teams, project management, and communication skills.
She has a Master's degree in International Relations from SOAS University of London, a diploma in journalism from London, and a Bachelor's degree in International History and Politics from the University of Leeds. Meghla speaks English, Arabic, Bengali, Hindi and German. She is also a dance teacher in Indian classical and folk.
Gudrun Wallenböck
Senior Consultant
Gudrun is a senior consultant at Eunepa and is involved in business development and intercultural training. She has over 15 years of experience working within intercultural education and management and has conducted workshops with students, professionals and artists, particularly from West Asia.
As an international teacher of intercultural management, Gudrun has set a focus on applying creative approaches to enhance not only the learning curve of her clients, but also to foster dialogue, understanding and solution-finding skills with longer lasting results.
Gudrun is the founder of the intercultural Hinterland Gallery Vienna, a core member of the programing team for 2 European Capitals of Culture, and lectures Intercultural Arts Management at the University of Applied Arts Vienna as well as at WIFI Vienna. She is currently conducting PhD research at the University of Arts (MdW) in Vienna, and holds a Master's degrees in Architecture from Technical University in Graz and Cultural Management from SMBS, Austria. Gudrun speaks German, English, French, Spanish and basic Persian.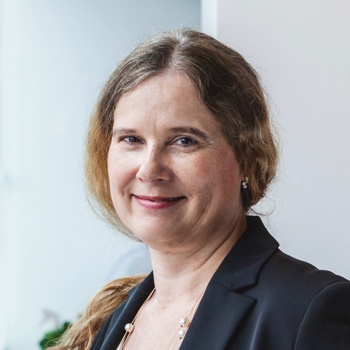 Isabella Herner
Executive & Team Assistant
Isabella supports the entire team in planning, research and coordination. She was active as an international retail specialist with over 20 years of international product and market experience. She comes from the textile and fashion business and worked as sales manager in London and Germany and as regional head of sales & marketing for Austria. She also held a position as international buyer & product manager in the European Central Buying Headquarter in Brussels.
In her function as business development manager and international franchise coordinator she was driving the non-European business from market analyses and partner search to market entries, brand building and operational topics in Middle Eastern markets like VAE, KSA and CIS countries like Russia and Kazakhstan. Some of the brands she worked for include C&A, Palmers and New Yorker. Isabella holds a degree from Vienna Economic University. She speaks German, English, intermediate Spanish, Italian and French, and basic Russian.
Rebecca Riess
Researcher
Rebecca works as a researcher for Vienna Global Leaders and focuses on the Eurasia region. Her research includes leadership in a VUCA (Volatility, Uncertainty, Complexity and Ambiguity) context.
Rebecca is an Intercultural Management student at Carinthia University of Applied Sciences in Austria, specializing in Globalization, Diversity Management and Intercultural Communication. She worked and studied in Austria, California, Italy, Spain, South Africa and Belgium. Rebecca speaks fluent German, English, Italian and intermediate Spanish.
Stay updated with VGL Forums and workshops!