o. Univ.-Prof. Dr. Wolfgang Mayrhofer
Speaker
o. Univ.-Prof. Dr. Wolfgang Mayrhofer is one of the key speakers at Vienna Global Leaders.
He is Full Professor and head of the Interdisciplinary Institute of Management and Organisational Behaviour, WU Vienna, Austria. He previously has held full-time positions at the University of Paderborn, Germany, and at Dresden University of Technology, Germany. He conducts research in comparative international human resource management and leadership, work careers, and systems theory and management.
Dr. Pari Namazie
Speaker, Managing Partner Eunepa
Pari has over 25 years of experience working as an intercultural, HR and organizational improvement consultant to multinational and international companies. She works as a coach, consultant and facilitator with all organizational levels from senior executives to project teams, providing HR and organizational improvement solutions. She weaves intercultural communication awareness into her solutions, helping diverse and multi-cultural teams work more effectively.
Pari has founded and co-founded successful private sector companies in Iran and Europe. She contributes to academic journals and is a regular speaker at international conferences on HRM and intercultural competence. She lectures Intercultural Communication at the Centre for Global Politics at Freie Universität Berlin. She was president of SIETAR Europa from 2015 to 2017.
Pari holds a PhD in International Human Resource Management and a Bachelor's degree (Hons.) in Business Studies from Middlesex Business School, London. She speaks English, Persian and intermediate German.
Dr. Barbara Covarrubias Venegas
Project Leader
Barbara is the project leader for Vienna Global Leaders and Eunepa's different leadership programs.
She is a senior researcher and lecturer at a university in Vienna, Austria. She worked and studied in Austria, Spain, Italy, Chile and Mexico and continues working with organizations and executives from global organizations. Barbara was also president of SIETAR Austria, as well as communications director and board member of SIETAR Europa for many years.
Barbara's research and training focus includes New Ways of Working, Flexible Organizations, Organizational Culture and Digital Leadership. These topics also form the focus in her keynotes, workshops and coaching activities. Her PhD research was conducted on Age and Gender Diversity in the Austrian Banking industry. She speaks German, English, Spanish and Italian.
Mike Murray
Speaker
Mike Murray is a Principal Consultant at PSI Talent Measurement, International.
He is a business psychologist with over 18 years' consultancy experience and has worked with a wide range of public and private sector clients in the UK and overseas. Because of his 13 years of previous experience as an international marketing manager, Mike understands many of the challenges faced by individual managers working in large organizations.
Mike's interests focus on identifying what 'good' looks like in any job, and then helping organizations to define and measure the skills and qualities which will lead to outstanding performance. He has done business in over 50 countries and is able to quickly assimilate the culture of an organization and the behaviours which are linked with success in a wide variety of sectors and roles.
Mike has industry experience in the following companies: FMCG (Nestle, Danone, Kraft), Retail (ASDA, Marks & Spencer, Waitrose), Investment Banking and Finance, (Morgan Stanley, UBS, Credit Suisse, JP Morgan, Visa Europe), Construction (Balfour Beatty, Wates, Scott Wilson plc), Healthcare and pharmaceutical (Novartis, Eisai, Medimmune), Oil & Gas (BP), Public Sector (Metropolitan Police, Crown Prosecution Service, DWP, HMRC, UK Fire & Rescue Service, European Space Agency).
He is a BPS Chartered Occupational Psychologist and holds an MSc in Organizational Psychology from UMIST. Mike is trained to administer a wide range of psychometrics including OPQ, 16PF, HPI, MBTI, Saville Wave and Lominger 'Voices' 360. Strengthscope accreditation.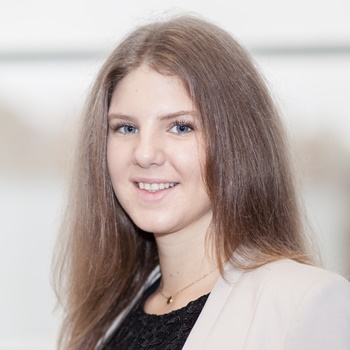 Rebecca Riess
Researcher
Rebecca works as a researcher for Vienna Global Leaders and focuses on the Eurasia region. Her research includes leadership in a VUCA (Volatility, Uncertainty, Complexity and Ambiguity) context.
Rebecca is an Intercultural Management student at Carinthia University of Applied Sciences in Austria, specializing in Globalization, Diversity Management and Intercultural Communication. She worked and studied in Austria, California, Italy, Spain, South Africa and Belgium. Rebecca speaks fluent German, English, Italian and intermediate Spanish.
Sign up to receive VGL insights.