Beyond Values:
How to Impact Your Entire Business
Date: 23 April 2020
Time: 09:00-13:00
Location: Vienna, Austria (exact location tba)
Participants: max. 14
Fee: €249 (The workshop covers tuition, course materials, refreshments and coffee breaks, and a certificate of attendance and completion.)
Questions?
Contact us, we are happy to help you.
info@viennagloballeaders.com
+43-1-996-2078
Integrity. Innovation. Trust.
These sound like great values many organizations have, but the question is: Do they practice them?
Studies show that organizations with clearly defined and implemented values outperform organizations that don't. Employee engagement is higher and profitability rises.
The truth is, however, coming up with strong values and sticking to them is a challenge. When practiced correctly, values will demand not only constant vigilance, but also limit an organization's strategy. They leave executives open to criticism and should shape employee behaviour.
When not practiced correctly, on the other hand, values become meaningless and can even create cynical employees and undermine leadership credibility.
We will look at questions, such as:
How can a specific value impact your business

— 

from the business model, to leadership, partners, culture and decisions?
How is this value seen in other divisions such as IT, marketing, HR?

What do you do when a value is not being seen?

How can you recognize when a value and your business are misaligned?

What happens when a value breaks down or is violated?
Leadership as a co-creative process
Distributed Leadership & Participation
Empowerment & Proactivity
Flexibility/Agile Mindset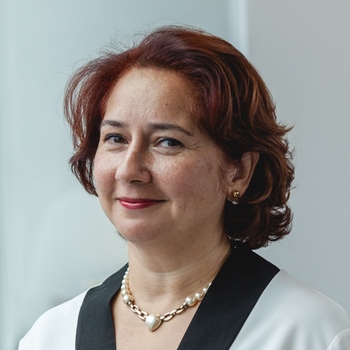 Dr. Pari Namazie
Pari is the Managing Partner at Eunepa and has over 20 years experience as a
Leadership facilitator
Executive coach
Organisational improvement consultant
Pari works with global companies, executive teams and leaders, supporting them at all stages, starting from new leaders in transition through identifying next career moves and exit strategies. Pari also works with executive teams to improve trust and dialogue, enhance vision and execute strategy. She supports them as a trusted advisor in communication, corporate culture, leading across cultures, and building transparency.
Pari holds a PhD in International Human Resources Management (2007) and a BA (Hons) in Business Studies from Middlesex Business School in London. As an author she has published academic articles and book chapters and lectured Intercultural Communication at the Centre for Global Politics Freie Universität Berlin from 2010-2019. Pari served as the President of SIETAR Europa (2015-2018).
Pari lives in Vienna, Austria and speaks fluent English, Persian and enough German to keep her out of trouble.
Sign up to receive VGL insights.