How Global Business Leaders Can Take Action Against Racism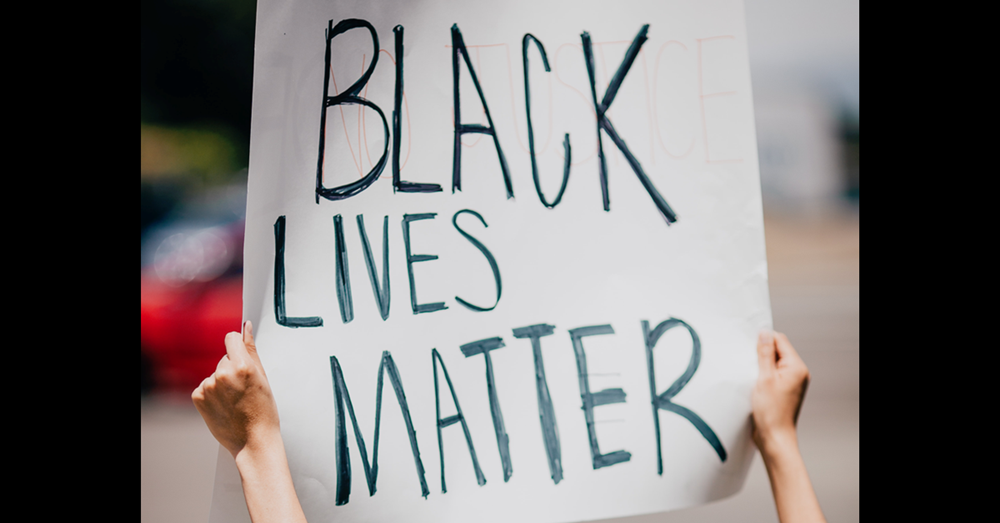 Racism exists everywhere. What are practical actions global business professionals can take against racism? How can we create safe spaces and move from sympathy to effective change for a racially just workplace?

The first mistake as a global business leader would be to assume that the trauma of George Floyd's painful murder is restricted to the US. The second mistake would be to assume that it does not affect you or your business. And the third mistake would be to feel powerless, even though there is so much we can do in business to stand up against racism.
Meanwhile, across the globe, millions of Black people and their rights advocates are pained, heartbroken, angry and exhausted. The wounds of racial injustice towards Black people are not new, but centuries-old.
And yet, Black professionals globally are expected to just deal with this collective trauma, part of the systemic and institutional racism pervading our structures, and to show up to work with a positive and productive attitude as if nothing happened.
While a few companies are starting to express their solidarity, many are still silent, often out of fear of saying the wrong thing. But corporate silence and inaction are part of the problem. As leaders across all levels, there is a responsibility to affirm the psychological and physical safety of Black professionals at work, and to use one's privilege to make a difference against all racism.
So how can we address these issues, especially as non-Black professionals in a global workforce? Remember though, you don't need to be a leader to make a difference.
1. What not to say
Don't start with saying you can't believe what's happening or that it can't be real. This is offensive as these incidents are not new, as public academic

Rachel Cargle highlights on Instagram

.

Don't ask Black people to educate you or advocate for justice initiatives

, unless you hire them to do so. Black people are tired of carrying the burden of solving problems just because you're not putting in the work yourself. So keep reading here, keep learning.

Don't tell Black people how to feel

or that they are too aggressive / emotional / sensitive when they talk about the issue. This is called tone policing and should be avoided.

Don't say you don't see colour, unless you are actually colour-blind of course. Acknowledge our differences as human beings, and along with that, the hardships Black people face because of those differences. The goal is not to stop seeing colour, but to stop making decisions based on colour. Otherwise, how can we fix a problem (racism), if we don't see it in the first place? Great graphic here.
Don't say all lives matter.

Of course they do and saying Black Lives Matter is not contradicting that. Black Lives Matter simply puts focus on who is currently hurting the most and who has not yet fully been included in "all lives". See this

burning house analogy video

and this

NYT article

.

Don't become too defensive.

Addressing these issues is not a personal attack on you. When talking about white privilege, for instance, it's not judging you or negating your hardships; it simply points out that your hardships are not based on the colour of your skin. As another example, refrain from focusing on the riots and civil unrest, if you don't understand their reason. Instead, redirect your focus to the actual problem of systemic racism.
2. Listen & educate yourself as an individual
This is not about you.

Listen, show empathy, and if you need help, hire professionals. And remember: "Anti-racism work is not self-improvement work for white people. It doesn't end when white people feel better, it ends when 'black people' are liberated."

Rachel Cargle

Acknowledge your privilege.

It all starts with some uncomfortable introspection, no matter how well-meaning you are. Be honest to yourself. How are you profiting from

white supremacy

 and white privilege

?

Are you aware of the struggles of Black people? How do you perceive Black people, at work, on the street, as friends, romantically? Not just POC; Black people specifically. 
Educate yourself

on racism and what you can do to change it. Reading / watching / listening list below

. You can also do this in a group setting to hold each other accountable.

Want some guidance?

You can follow 

Tayo Rockson's #LetsTalkBias challenge

in June for daily reflections and weekly lives:

LinkedIn

,

Instagram

,

YouTube

, Facebook, his

blog

, and podcast

, so follow along and let's get to work!

You will say and do the wrong thing.

When you are called out on it, apologise, learn and move forward. "The beauty of anti-racism is that you don't have to pretend to be free of racism to be an anti-racist. Anti-racism is the commitment to fight racism wherever you find it, including in yourself. And that's the only way forward."

Ijemona Oluo.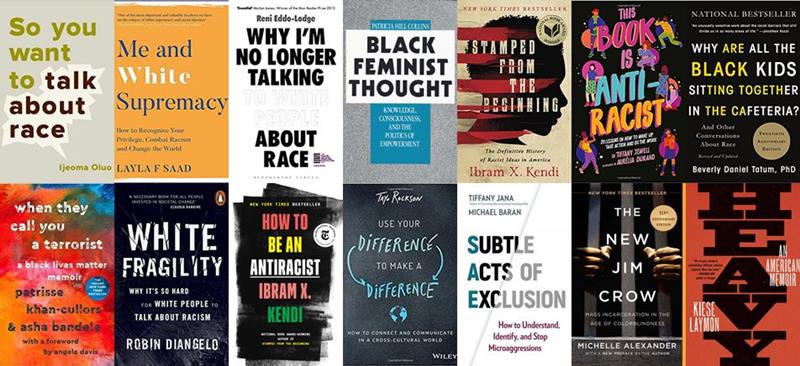 Another challenge? Choose one book from this selection and start reading and reflecting. #stepbystep #youcandoit
 3. Create safe spaces at work
Don't ignore what's happening.

Take initiative and promote real conversations about racism. If you're not in a leading position, consider using this

template letter

to contact your manager and ask for accountability.

Check in and create safe spaces

for your Black colleagues. As a leader, you don't need to be the hero here. Be effective: Acknowledge what's happening and get the ball rolling by starting the conversation.

Lead the conversation for the whole team and don't single out Black colleagues

in front of everyone to ask how they are or what you should do. This only puts them on the spot. Instead, approach your whole team to address what's been going on. Acknowledge how it can be hard to separate these things from work and share what you hope to achieve. Then open up an hour in your schedule for private meetings.

Let your team know that you care and that your door is always open to talk and hear suggestions.

Examples of what to say

here

.

Consider a mental health break for your Black employees.

They may have been crying, grieving and feeling anger and loss. You can ask how they are and if they have all they need, individually, but if they don't want to talk, that's okay too. Everyone is affected differently. Understand if they are quiet at work and offer them a break.
4. Speak up and amplify Black voices
Speak up publicly to let your Black colleagues, clients, stakeholders and partners know you stand with them. Make your white network understand that silence is part of the problem.

Have the conversations at the dinner table too.

We're keeping with our motto here: Using our privilege to make a difference.
Speak out when you hear racist comments and jokes

, even if it's from your CEO or client. Yes, this requires courage, but that's a good thing, isn't it?

Be vocal about lack of diversity, inclusion and representation. Speak up for Black colleagues passed over for promotions, for example. 

Your voice matters.

Use your privilege and voice to amplify other voices

and share spaces and opportunities. Amplify stories of Black people by liking, sharing, commenting, and provide larger platforms for people who are speaking out. Be inclusive online, at work, at events.

Support the people you are learning from

. Buy books from Black authors. Share their work.

Donate

to organizations fighting for the cause and strengthen initiatives across sectors.
In moments of injustice, Danielle adds, your voice needs to be heard, especially in your sphere of influence. You don't have to wait until you've amplified before you speak out.
5. Transform long-term: Business taking action against racism
Create a corporate culture of understanding

. Your non-Black employees should be aware too. How are you reminding them about bias?

What can your company do against racism and to promote justice in the community? Find creative solutions together. It takes discomfort to truly address these issues, but the reward — maximizing everyone's potential at a safe workplace and increasing engagement with real meaning — is worth it.

Understand the microaggressions

going on within your company. Have you ever considered this issue? How is it affecting your employee motivation and retention? How are you creating psychologically safe spaces?

Practise Diversity, Equity and Inclusion

in your organization and invest in training. Inclusion not only fosters

innovation

 and motivation

, but is a human rights issue.

Diversify your talent.

What are you doing to find, promote, reward and value diverse talent? This is a great long-term solution for business to take action against racism. Work harder to support initiatives and seek out a diverse workforce from junior recruitment to leadership succession.
7. Stay vocal about racial injustice
Once the voices on social media get quiet again, don't stop your efforts. Unlearning racism and biases and standing up for justice is a life-long commitment, and one worth the effort, both professionally and personally. You will not only find more justice, but more empathy, compassion and strength in your life and the lives around you.
Promoting racial justice is not restricted to the US and certainly not to Black people. Business can take action against racism too. Leaders globally on every level can stand up for equal rights and equal opportunities, starting from within themselves.
While it is a time for grief, it is also a time for change. 
What will you do?
Resources
BLACK VOICES ABOUT THE CURRENT WORKPLACE
Forbes: Dear White People: Here Are 10 Actions You Can Take To Promote Racial Justice In The Workplace
HBR: U.S. Businesses Must Take Meaningful Action Against Racism
Medium: How Managers Can (and Should) Address Race and Violence in the News
Medium: Maintaining Professionalism In The Age of Black Death Is….A Lot
BYP-Network: Black Employees Need Support Right Now, We're Tired
Refinery29: Your Black Colleagues May Look Like They're Okay — Chances Are They're Not
LinkedIn: Do you really want to help?
YOUR WHITE PRIVILEGE EDUCATION: A START
Tayo Rockson's #LetsTalkBias daily challenge in June 2020: Follow along on LinkedIn, Instagram, YouTube, Facebook, his blog, or podcast!
A google docs with anti-racism resources for children, adults, what to read and watch, where to sign and donate
Understanding White Privilege: A Checklist
The Pyramid of White Supremacy
1 minute TikTok: White Privilege Is Real
Instagram: A Guide to White Privilege
Instagram: 10 simple ways white people can fight everyday racism
Instagram: How to be actively anti-racist
(German): derStandard: RassistInnen, das sind die Anderen
TED: Why we need to call out casual racism
DW: George Floyd killing opens racism wounds for European Blacks
European Network Against Racism
THE BUSINESS CASE FOR DIVERSITY
HBR: Getting over your fear of talking about diversity
McKinsey Report 2020: Diversity Wins: How Inclusion Matters
Kadidja is a digital marketing manager and project coordinator at Vienna Global Leaders. She has experience in journalism, content management and web design. She holds degrees in English and American Studies and in International Development.
Kadidja is a digital marketing manager and project coordinator at Vienna Global Leaders. She has experience in journalism, content management and web design. She holds degrees in English and American Studies and in International Development.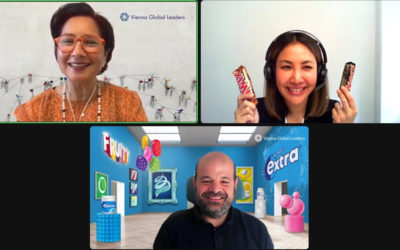 Watch the recording of "What does it mean to be an extraordinary leader?"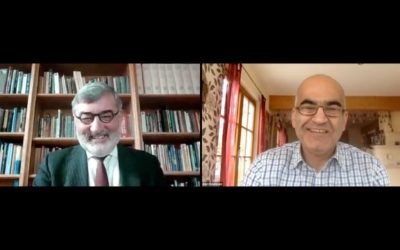 Watch the recording of Ukraine Crisis, the Limitations of International Law and Our Responsibility.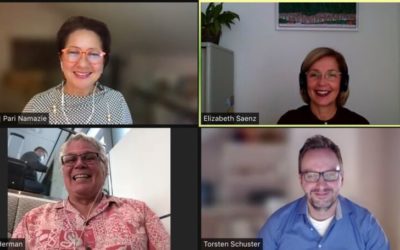 Watch the recording of the VGL Forum on Hard Truths on Leadership Transitions, featuring the stories of three leaders.
Stay updated with VGL Forums and workshops!